08/18/07 19:15 Filed in:
Review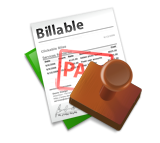 Billable 1.1.2
http://www.clickablebliss.com/blillable
Price: $24.95
Billable is a easy to use Invoicing application, that will make creating your invoices quick and easy.
You setup your clients in an easy to use client editor window. The window allows you enter important information about your clients, and you can also use the window to import a client from your address book. This is actually one thing I love about Billable, too many applications make you store these Clients in your Apple Address book, which I don't want. I like that Billable has its own database, and Billable automatically backs it up each time you open the application.
Read More...